The History of the Baker Family - as we know it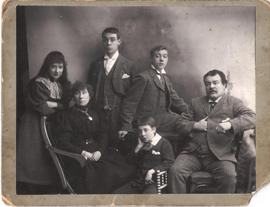 Henry John Baker [Connie's great grandfather] first came to the US in 1894 [Ellis Island] and in 1898 applied for immigration. We can't find them from that point until the 1910 census, even though we know they had children born in New York during that time. He and his wife were actors and used the stage names of "Ma and Pa Hearn". The lore is that they were instrumental in Maurice Chevalier coming to the US [we have an original autographed picture of Maurice Chevalier from their keepsakes]. We know they were in a tent show called "The Madcap Players" that traveled through the southwest, however, don't have specific locations and dates. As new resources become available we keep trying! We would love to know what they were doing and where they were. Since Jeannette found our site we know a lot more about the artistes and artists that were the Baker family. All pictures here are courtesy of Jeannette.

Thomas Henry Charles Baker, Jeannette's grand father changed his name to Thomas Elder-Hearn early in the 1900's - that's why we couldn't find him. He's understood to have raced cars at the Brooklands circuit before discovering the airplane, flying the Bleriot monoplane in the London-Paris air race in July 1914 with his wife as a passenger. He wasn't successful in this venture and had to retire from the race, these details are recorded in the July 1914 issues of 'Flight' magazine.

Thomas was a pilot in World War I and achieved the rank of 2nd Lieutenant in the Royal Flying Corps - the forerunner to the UK Royal Air Force.

The family 'lore' was in some ways true, Thomas was the manager of Maurice Chevalier for a time and we have a photograph of Thomas, Maurice and Maurice's future wife Yvonne Valee taken in London just before their marriage. This photograph is not published on these pages. Thomas and Maurice travelled the Atlantic many times and on one occasion the passenger listed next to Maurice was a Professor from Poland - Marie Curie.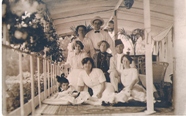 The English family prospered with Augustus taking the name of Gus Chevalier after Maurice Chevalier, who he knew while growing up in Paris. Gus married a dancer, Ethel Pearcy, from the Folies Bergere and they had one son - Valdor, Valdor married and had 3 children - one of these, Howard Baker found our site in September 2011 and filled in some blanks.
Finette Baker, the only daughter of Henry Thomas, born in Berlin married Rudolph Treharne James and had a daughter Lois. Finette moved to York after separating from Rudolph and ran the Castle Hotel and later the Lowther Hotel.

Thomas married Frances Wheeler at the Blacksmith Anvil in Gretna Green, Scotland in 1912, they didn't elope - 'it was just a romantic thing to do'. They had a daughter Cherie in 1921, sadly Frances died only 3 years later.
Henry John Born London July 21 1877 - died Dallas, Texas October 28 1944
Thomas Charles Henry Born Lambeth, London May 21 1879 - died Barnes, London June 25 1954
Finette Phoebe Born Berlin, Germany 1883 - died York, Yorkshire about March 1963
Augustus Born Paris, France 1885 - died November 20 1947 in Barnet London